oh, i almost forgot about my trip in Halong Bay. If somebody doesnt know (shame on you) Halong Bay is that place in Vietnam where the sea meets 3000 karst mountian style islands. If you still doesnt know what im talking about .. whatever...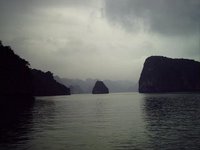 One of the only places so far that you reach cheaper by Tour then by yourself ... so i bargained a good price and then i set off for a two day cruise through the bay. Wonderfull ! And it is very relaxing to be out of noisy hanoi for a while.
Set by a very comfortable boat out for the cruise, visited a cave (ligthed like disneyland) and an village (in the water, on floats ... saw schoolkids making there way to the classroom by boat) on the way, then for the night in an good Hotel in the Island of Cat Ba + a couple good beers at the bar there and on the next day along another couple dozen islands back to Halong and on Hanoi.
yeah yeah ... these package tours can be relaxing sometime ... and with food included even more.
....with a very full belly and a lot of pics in my head
jockel