well, after loud and noisy Vietnam i was really looking forward to some peacefully and quiet places but it comes often different - specially when you travelling. Andyway, i was off by Bus from Saigon towards Cambodia and Phnom Phen. First thing that i saw in PP was a giant Backpackerstrip ... and every possible thing you can pay for - marked in US dollars. I reckon that i changed only 10euros or so in the local currency (riel) and payed the rest in dollars. Even things like Coffee was priced in $ ... 0.40$ or so. Strange world here !
Anyway, the things to see or at least the things that i saw (i actually dont have the time to hang around just another mounth. But about that i writhe later...:-) was a couple awefull things in PP, things about the genocide during the reign of the Khmer Rouge. Sorry, but i coudn't stand it.
Has maybe to do with the fact that i was in Ausschwitz and Birkenau just 4 mounths ago - but why the are everywhere in the world people who kill they own fellows for no reason ? Germany and Europe, Ruanda, Yugoslawia, Cambodia ... What an terrible world, and i reckon things like that will not end as long as that world will remain.
Next stopp then was Siem Riep and the famous Angkor Wat ruins. Nice, but an 20$ entrence fee calls for some hardship, in that case me and the mate i was travelling with went up at 5 in the morning, jumped on some bikes and where at sunrise in front of the Angkor Wat.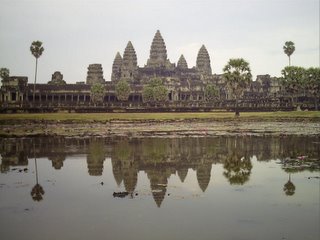 Well, sunrise was rubbish anyway but at least we made an early start and had after the Wat a lot of time to discover all the other thousand temples and ruins that there a hidden in the dschungle. In fact it was an old capital of the khmer empire some 500-1000 years ago or so. A huge one. So there was also City Walls and Gates, Palaces, Pools and a lot of other stuff. Take a look for more pics at my web album, its placed on the rigth side of the website ! Was alltogehter really worth seeing it ... we ended the day after 13 hours sigthseeing on the top of an other temple, watching the sunset. Hard Day !
So, thats for today
see you